Our last quarterly letter started with: "This will certainly be a quarter to remember."
Well, once again…"This will certainly be a quarter to remember!" This time, it's good news…
U.S. stocks just closed out their best quarter since 1998.
After having been down as much as 34% for the year in March, the S&P 500 index now stands at about breakeven for the year. U.S., international, emerging market, global real estate stocks and bonds were all up in the second quarter.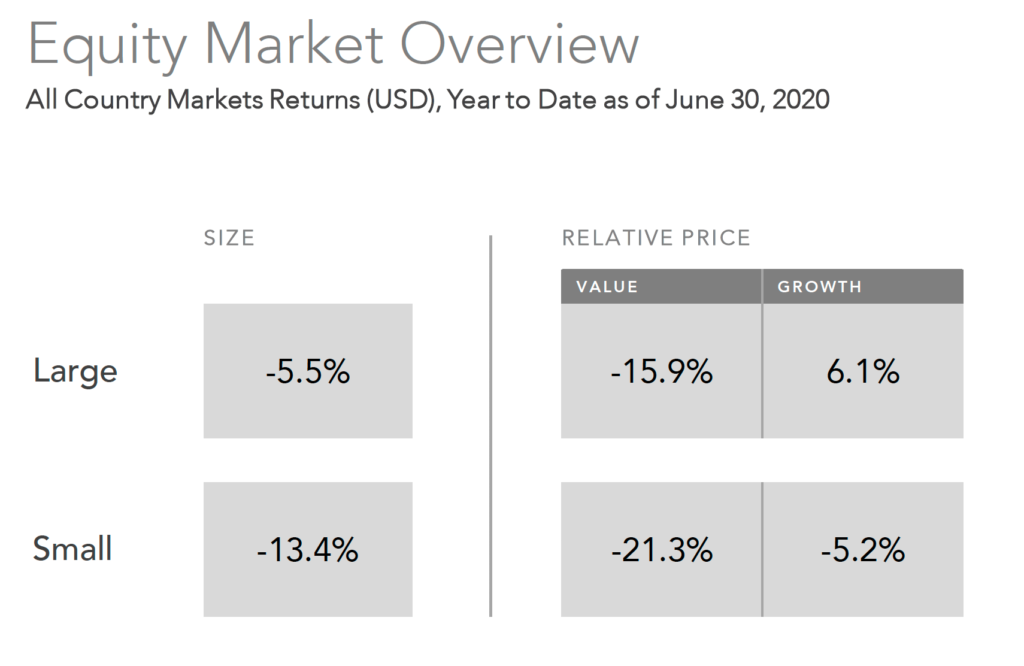 That's one heck of a roller coaster ride.
And it's also a welcome relief and reward for disciplined investors. It's worth noting that this partial recovery has been lopsided – driven by larger "growth" stocks around the globe.
If we look to the right at year-to-date performance of larger versus smaller companies as well as value (cheap) versus growth (expensive) companies, we see that smaller and cheaper companies still have a way to go to full recovery. 1

While this partial recovery happened amazingly quickly, we are not out of the woods yet.
When it comes down to it, the crisis is rooted in public health. Although many early hot spots for the novel coronavirus have managed to control the pandemic, other states are now seeing an acceleration in new confirmed cases. Financial markets have been volatile as these patterns call into question the ability for the economy to reopen smoothly.
Whereas the pandemic is having hotspots, the overall economy is seeing bright spots. Most economists (and the Fed) predict a strong second half of the year. Unemployment claims are coming down. Consumer spending is picking up. Cities are reopening. Factories are restarting. Things are reportedly getting better rather than worse. That's good news and much remains to play out.
Thus, as is always the case, we should continue to be disciplined and patient. Holding a diversified portfolio has not only been the best way to weather this particular storm but has also been the way to do so across history. With so much uncertainty in the world during the coming second half of the year amid the pandemic, presidential election, trade disputes, and other factors, staying balanced still the best way to achieve financial goals.
We hope that you are find ways to be enjoying the summer so far, most likely close to home.