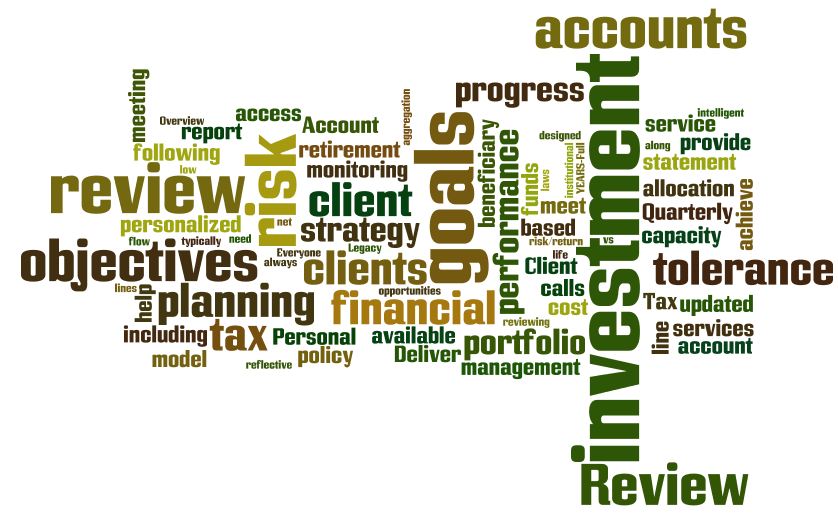 Our Wealth Management service model is designed to achieve your ongoing investment objectives plus provide additional financial planning services for clients who desire and need them based on their individual situations.
If you're like most of our clients, you're focused on one of the following goals for your financial resources:
Helping Family
Protecting Lifestyle
Achieving Financial Comfort
Planning Retirement
Building a Legacy
Below are some checklists of the types of services we offer at each stage of our relationship with our clients.
INITIALLY- Understand your goals and risk tolerance to develop and execute a customized strategy
✔Determine client goals and objectives in line with risk capacity and risk tolerance
✔Deliver investment policy statement- overview of investment goals and the strategy we will employ to meet these objectives
✔Review, consolidate and transfer accounts as appropriate
ONGOING-Monitor and rebalance your investments to meet your goals through low-cost and tax efficient investing
✔Daily portfolio monitoring- reviewing the investment allocation of the portfolio in line with determined risk/return model
✔Account rebalancing- trading in accounts to ensure the investment allocation is reflective of the client risk tolerance and investment policy statement
✔Tax Efficient Investing – monitoring accounts for tax harvesting and other beneficial investment tax strategies available
✔Low cost institutional funds- provide access to low cost institutional class funds including Dimensional Fund Advisers (DFA)
✔Account aggregation – download and report the account values and performance of non-Schwab accounts such as retirement accounts
✔Personal Client Service – dedicated, intelligent and professional service team to receive your calls and respond in a timely manner
✔Personal MFA Portal- Client has 24 hour access to a personalized online website portal to review daily performance reports.
QUARTERLY-Communicate progress through analysis and personalized reporting
✔Quarterly Newsletter- Overview of financial markets and planning opportunities
✔Quarterly Portfolio Review- Personalized client portfolio report with performance and investment allocations
ANNUALLY-Check-in and review to update goals based on changing finances, debt status, and more
✔Review meeting
✔Tax Review Report completed and sent to client and/or accountant (for clients who provide their tax returns)
✔Goal planning to include retirement and education funding
✔Cash flow management and tracking (income vs. expenses)
✔Debt management advice (mortgage, home equity lines, credit cards)
✔Updated financial plan and net worth progress
✔Assistance with impactful charitable giving strategies
PERIODICALLY-Full and careful review of all objectives and risk tolerance including updated strategy
✔Review and evaluate progress toward your important financial objectives and confirm present risk capacity
✔Insurance and beneficiary reviews (life, disability, liability and long term care)
AS NEEDED- Everyone needs a little help along the way. We are always available to take your calls with any questions or concerns
✔Deliver updated Investment Policy Statement
✔Estate planning review meeting (change in circumstances, new laws and beneficiary review)
Minimum account size of $1,000,000.