It has been five years since the stock markets of the US and most of the world hit bottom and began an astounding recovery.  On the heels (fins?) of our recent message highlighting how short our collective attention spans have become (see: Do We Keep Repeating Ourselves? emailed March 17th), we dusted off our quarterly review from five years ago to see what was capturing our attention.  Here's what we wrote on April 12, 2009:
… The first two months of the year were the worst January and February on record for the US Stock market, while March was the best month since 2002.  The four weeks ending April 3rd were the best four weeks for the US Stock market since 1933.  The S&P 500 index was down as much as 25% during the quarter but ended down "just" 11%.  It remains to be seen whether the worst is behind us.
Bull and Bear markets are defined as 20% moves up or down, respectively.  By those criteria, we have had two Bull markets and two Bear markets in just the past six months!  This comes on top of already shaky consumer confidence during what is turning out to be a longer than average recession.  Negative sentiment can become self-fulfilling or as Yogi Berra once quipped, "the future just ain't what it used to be".  Trying to be a long-term oriented, patient investor during this time has felt like bailing a sinking rowboat with a teacup.
Those who patiently held market weight portfolios at that time were truly tested.  We wrote in our review at the time:
The forty year period ending February, 2009 was the second worst on record since 1900.  The only worse 40 year period was the one ending December 31, 1941, at which time we had the Great Depression and Pearl Harbor in the rear view mirror and World War II ahead.  The following five years were especially good for Small and Large Cap Value stocks, which delivered real returns of 35% and 22% per year, respectively.  (Source: Yahoo Finance and CRSP).
Fortunately, March 9th, 2009 marked the end of a Bear market and the beginning of the Bull market that has seen major global indices of the world double and triple in value in the past five years.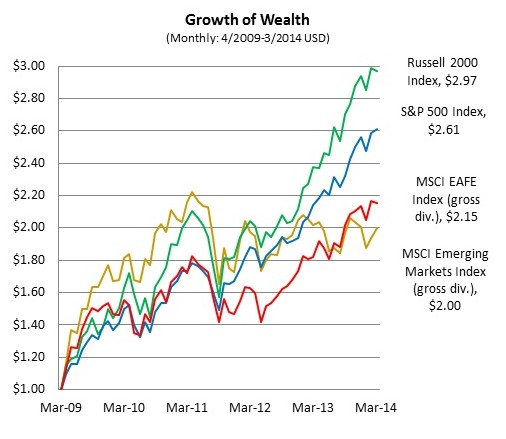 A dollar invested April 1, 2009:
And nearly tripled to $2.97 invested in US Small Companies (Russell 2000*)
Rose more than two and a half times to $2.61 invested in Large US Companies (SP 500*)
More than doubled to $2.15 Invested in the Developed Non US Markets (Europe, Australia, Far East*)
Doubled to $2.00 in The Emerging Markets (China makes up about 13% of that Index, the MSCI Emerging Markets Index*)
We benefitted five years ago by rebalancing our portfolios, buying MORE of the unloved asset classes while resisting the urge to feed our fears and buy only that which offered steady comfort.  Going forward, expect more of the same.  We are happy to discuss this with you in any way that is convenient.