Our Standard Suggested Reading:
The Investment Answer – the final writings of a dying banker, distilling what he learned in 25 years on Wall Street into 100 very wise pages
The Behavior Gap – we've always said behavior trumps skill. Carl Richard's book makes point after point on the expense of bad behavior and helps us keep our eye on what is really important.
Suggested Videos:
The 2013 PBS Frontline video, The Retirement Gamble,  that highlights the current problems with 401k plans and investment fees in general. Our investment philosophy and process as well as our fiduciary status address these issues directly.
It is 50 minutes long, but worth every minute spent.   http://video.pbs.org/video/2365000843
---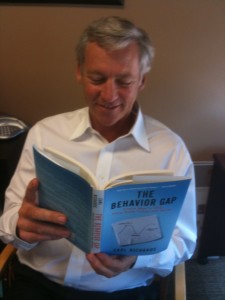 Dave's Distilled List of Favorite Books
The Age of the Unthinkable by Joshua Cooper Ramos – great insights about how our world has changed and what it takes to survive and thrive
Drive  by Daniel Pink – what is really important, what drives us.  Find out here
Start with Why by Simon Sinek – no one cares what you do or how you do it until they understand Why you do it
Whole Earth Discipline by Stewart Brand.  The subtitle is "An Ecopragmatist's Manifesto" –  our world and ecology from a scientists point of view, a fresh revision of his 30 year old Whole Earth Catalogue.  Prepare to be surprised as you read his evolving views.  The chapter on Microbes is my favorite.
---